Before you rush into the one-click options for designing your own website, you need to lay some foundation for the site that you want to build. A bit of guidance is provided below and while not in any particular order, the steps will help in establishing some measurable goals.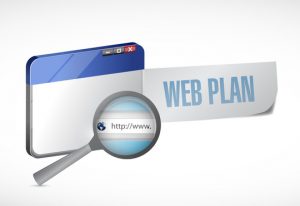 Set a budget:
While hosting of your website may be free (usually promotional) you will still need to pay for things like a domain name and security, so do some research into the usual cost.  Remember, there may also be Pro and Deluxe packages available and you need to know how much you are likely to spend and what you will get for it.
Decide what your website is about:
This probably should come first, since it may influence how much you should be willing to spend.
However, you need to determine what your site is about: educational, interactive, eCommerce, blogs… to name a few. You are building a website around this idea, so you need to recognize this in order to plan properly.
Develop goals and milestones:
You need to set targets for your website. For example, the number of downloads per month of a trial version e-book available on your site.  Your website must accomplish something for you or it's really not worth having.
Website Sitemap / Table of Contents:
It's important to establish the Web Pages needed for your Website. This step will help determine what type of content should be displayed on your Website.
Site Content:
Now that you have decided on what your website is about, you need figure out and acquire content (or body) for your website.  A blog will need articles related to your websites purpose. You could decide to make money from your website, so you will need to subscribe to the appropriate affiliate programs.  You may need to have an ordering form to accept orders. You may need to add products; whatever your website's focus, you need content.
Set up a time table:
Don't just leave the task of building your website to when you are in the mood.  Slot in the times that you want each activity to be done.  This will help to keep you focused. Use project management tools like Trello.com to help you create tasks and stay on track.
Back-office Support:
Maintaining and updating your website is important.  You need to keep it fresh and current so that it will always be recognized by the search engines.  The decision as to how often and who will make changes and add data to your website should be determined well before hand, so that if it will incur cost or extra time, it can be factored in your budget.
Overarching all this info is the need for research.  Search the web for any other site that may be offering the product or service you have in mind. Do your research on your competition's Websites. Also, you may need technical help and Nuts and Bolts Web Design may just work for you.